An Interview with Jason Hann and Michael Travis of EOTO & SCI
May 8, 2010
The Paradise Rock Club- Boston, MA
EOTO rocked the house on Saturday, May 8 at The Paradise Rock Club in Boston, MA. I was able to sit down with Jason Hann and Michael Travis before the show and spoke with them about life on the road, summer time String Cheese Incident, and more. Read the transcript below or listen to the audio here:
What has been your favorite show of 2010 so far?
Michael Travis:
Uh, New Orleans comes to mind for some reason.
String Cheese Radio:
When was that?
Michael Travis:
Oh, that was in December...darn it. I don't know, they all just kind of become one show sometimes, its hard to define a favorite.
Jason Hann:
I'll go with
Portage Theatre
.
String Cheese Radio:
Chicago?
Jason Hann:
Ya, that was huge. That was our biggest crowd we've ever had. It was on fire in there.
String Cheese Radio:
You didn't have any special guests this time around though right?
Jason Hann:
No, no special guests this time around.
Have you added any new equipment to your setup in 2010?
Jason Hann:
This year I added a
control pad to my stuff. That might be it. I have my djembe on a standing stand now instead of a sitting stand because it was really tricky to try and play that thing so far away from my drum set. But that's pretty much all, always adding, you know, kind of effects to my world. But as far as physical pieces of gear… oh, I added a laptop. I don't think I had the laptop until this year, I don't think I had it in New Orleans and stuff.


String Cheese Radio:

So you added the laptop and the Ableton touch controller?


Jason Hann:

Yeah, so now that's definitely sort of a new revolutionary thing in our setup. So I've got one behind me. We used to put all of our stuff onto one laptop, but its harder to sort of personalize it so we've got two laptops running and they're midi-synced together now and then I still have the multi touch screen Lemur and it can do some controls on both laptops.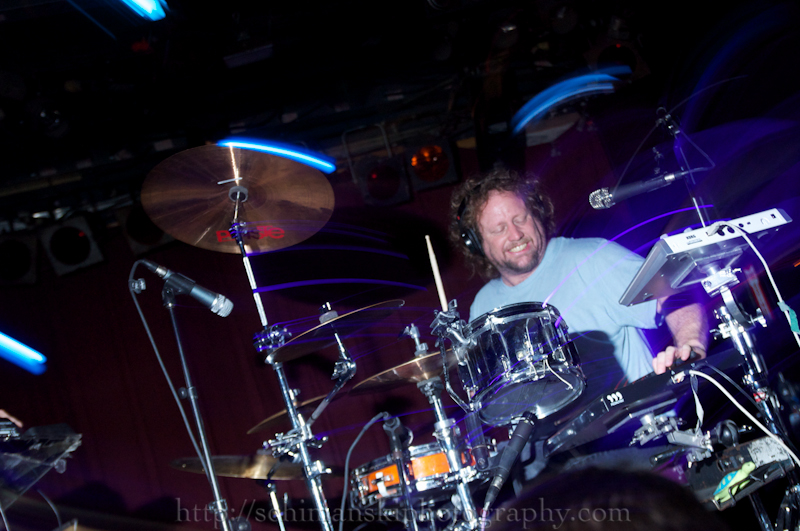 What kind of drum sticks do you use?
Jason Hann:
Zildjian 7a Dipped Blue Tip
String Cheese Radio:
Every time?
Jason Hann:
Now, yeah, every time. Its really good, they feel really comfortable to play with.
String Cheese Radio:
Nice
If you had to describe EOTO's sound in one word what would it be?
Michael Travis:
Gnarly [laughs]
Jason Hann:
I don't know, if I had to describe it in one word…I'll go with fun?
Do you ever get the chance to see other bands play while you're on the road?
Michael Travis:
Occasionally, not so much though. Just the bands opening for us and stuff like that.
Jason Hann:
Its hard to really check out anything else. I don't think there's been an afterparty, at least this tour, where there's been like, a band. I don't know, so...[laughs]
What artists are you currently listening to in Rocky, the tour van?
Jason Hann:
Ah, Nothing. We kind of leave the radio off. Everyone has their headphones with their stuff that they want to listen to. Chris, our driver, likes to listen to Dave Matthews and Yonder and String Cheese and Eskmo, and occasionally when something comes on the radio, he'll turn it up. It'll be like Steel Pulse, or Chromeo, or what's that band out of Atlanta? With Andre 3000? Outkast.
String Cheese Radio:
What about you?
Jason Hann:
Me? At least in the vehicle, I don't really listen to much. I try to sleep as much as possible, so I'm not sure. What do you listen to [Travis]?
Michael Travis:
I listen to some similar, you know, darker, dubstep stuff, trying to figure out what they're doing.
String Cheese Radio:
Like who?
Michael Travis:
Datsik and Excision and Flux Pavilion and Trolley Snatcha.
Is this the last show of this tour?
Jason Hann:
Actually we have tomorrow in Bangor, Maine. And that's it. Then we get to go home on Monday.
How long have you been on the road?
Jason Hann:
Well for this part of the run, it's been like three weeks straight, no days off. But we've basically been on the road since mid-February. We did 41 shows in 42 days. And then we were home for 4 days, then we did a weekend in Colorado, home for 4 days, did a weekend up in British Columbia, and then had like a day home for one day, and then we started this three-week run. So basically since mid-February, yeah. There was one other week off at the beginning of April, that's when I did the Contribution. We had like three days of rehearsal, and then did Denver, and then a day off, then San Francisco. That was fun.
Do you ever get tired of constantly touring?
Michael Travis:
I love it man, I could do it forever.
Jason Hann:
Yeah, I like the home time just as much as the road time. While we're on tour, its just, its a lot of fun. Afterparties, playing shows...
Michael Travis:
They're both usually great, home and road. I feel like I could do either forever.
When you're on the road, you and Travis are around each other all the time. Are you guys good friends or is it more of a working relationship?
Jason Hann:
It's both.
Michael Travis:
Yeah, it goes back and forth. You have to be good friends to some degree to trust each other to create improvisational music that's meaningful.
Do you prefer the more intimate, smaller crowds at EOTO or the huge festival sized crowds at String Cheese Incident shows?
Michael Travis:
They're both great.
Jason Hann:
They really are.
Michael Travis:
They have totally different reasons why they're great. Different feelings from them, so.
Jason Hann:
Even if we have some of our gigs, like playing in
Aberdeen, South Dakota
, which, you know, is just a town we didn't really expect that much out of. But the kids in that area were so excited for us to go through there. We played at a VFW that kind of had all the makings of, you know, possibly not going off. On paper it felt like more of a filler date at first because the venue had changed, the city was changed within weeks of the show, and it ended up being actually one of my favorite shows. Just because the kids there were so psyched and driving from four and five hours away. A lot of kids were just happy something was going on in South Dakota. So energy-wise, that was… but you know, that was one of our smaller shows. But then again, where I still look at the video of when we walked out during Rothbury, and there's like, how many people were in that crowd at Rothbury?
Michael Travis:
Thirty thousand or something.
Jason Hann:
Yeah, and you feel that rush of excitement and energy. Now that coming to you right when you're walking on stage, it becomes this physical entity.
It's been announced that you're closing out Thursday night of Horning's Hideout. Seeing as it's a festival set, can we expect any special guest sit-ins? Maybe other String Cheese band members?
Michael Travis:
Nope. It's just that the duo thing feels so good and it's so much easier to navigate musically, and if we were going to do it with the other guys, its just much more, its a whole different animal. I like doing shows with those guys, if it's like that is what it's supposed to be all night, but to have them come in the middle for a bit, it kind of throws the whole thing off. Its hard to stabilize sometimes.
Jason Hann:
Maybe Billy can play that flute that he played in that Men at Work song? He can get a flute patch going. [laughs]
What about a late night DJ Prophet Ma$$ive set?
Jason Hann:
At Hornings? I guess I'd have to talk to Kang about that. I'm down.
String Cheese Radio:
Why is that?
Jason Hann:
Well isn't Kang coordinating a lot of that? In the dome?
Michael Travis:
All the domey stuff? Yeah.
Jason Hann:
I was supposed to do one in 2007. I got bumped for Elf. Elf came at the last minute. But yeah I'd love to do a late night there.
What are some other festivals that EOTO is playing this summer?
Michael Travis:
Nateva, big festival in Maine. And Wakarusa, Sonic Bloom.
Jason Hann:
Summerdance Festival, Bella Vida.
Michael Travis:
Lightening in a Bottle, Summercamp, Camp Barefoot, Camp Euphoria, and others. Summer Meltdown.
What was it like recording and playing with The Contribution?
Jason Hann:
Oh,
The Contribution
, wow. Yeah, Its funny because we did that in such a short period of time. That was almost two years ago when we actually did the recording, we were in the studio for about three days, so it just goes by really quick. But all the guys involved are really, really good musicians. The primary songwriters on that were Tim Carbone and Jeff Miller and Phil Ferlino, and it was great the way they did it. The only time they wrote was when they were together; It's not like guys were bringing in songs individually. And then by the time they had some sort of skeleton or even just an idea, me and Keith went in there and we jumped more on outlining grooves and really came up with a solid arrangement for the song. So it felt like it was written together, really well.
String Cheese Radio:
There were a lot of people on stage during the shows right?
Jason Hann:
Yeah, all the guests were just fabulous, really. That was one of the more really fun parts. And everyone knew their stuff too. I think one of my favorite parts was a gospel singer that Tim would use in the studio. Its her, Cheryl, and two other ladies that sing with her, they call themselves the Black Swans, based out of Denver. And Cheryl is just such a great singer. So one of the fun parts for me was, I wanted to do Led Zeppelin "Song Remains the Same", and we were like "Yeah... but none of us can sing it." That's the hard part, well all the playings hard too, but getting a Robert Plant type of vocalist is pretty much the hardest part of Zeppelin. So anyways, just Cheryl sang, but Robert Plant, if you listen to him, he was just trying to imitate all the blues musicians and that was his version of that, and so it was cool that Cheryl, just being a full-on gospel singer and R&B singer was getting into Robert Plants parts. It was so much fun doing that.
When does SCI practice start?
Michael Travis:
Early June. June fifth?
String Cheese Radio:
In Colorado?
Michael Travis:
Yep
String Cheese Radio:
Nice
Are there any new songs written by either you or other members of The String Cheese Incident that you're excited to play
Jason Hann:
Kyle seems like he's been on an inspirational run right now, at least he mentioned that he's got a bunch of new songs I think Keith got together with him at his place.
Michael Travis:
Yeah, they're working some stuff up. I think both of those two, and I imagine everyone has new songs, maybe Kang doesn't so much, and I don't...Jason, you got new songs?
Jason Hann:
I got some stuff. Just whether it would work [laughs]. Just gotta bring it in.
Do you think String Cheese will repeat any songs during the Red Rocks and Horning's shows?
Michael Travis:
I hope not...The plan is not to.
Why were the Disco Biscuits chosen to co-headline the first night of Hulaween?
Michael Travis:
Because they're the kings of the east coast jam. They're holding up that candle out here that's like this parallel journey that we've got going on the west coast, where they're inspired musicians that try to create beauty out of nothing when they're jamming and they're all buddies and it seemed like a great thing.
Do you have anything else you'd like to add?
Jason Hann:
You probably mentioned before that our stuff is on
www.LiveDownloads.com
String Cheese Radio:
So download the show?
Jason Hann:
Exactly. A lot of good stuff up there.
String Cheese Radio:
Yeah, support the artist. Well thank you very much Michael Travis and Jason Hann.
Michael Travis:
Thanks Jeremy
Listen to The String Cheese Incident, Railroad Earth, EOTO and more streaming 24/7 on stringcheeseradio.com